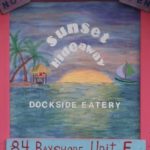 Welcome to the Sunset Hideaway.
The Dockside Eatery located in Bahia Marina in Ingleside TX on the Bay.
We have BBQ on the bay on the La Quinta channel.
We smoke all of our meats on-site and make traditional BBQ sides.
We have outdoor seating and we are set up for social distancing.
We make all of our meals and sides fresh daily.
We have dessert, drinks and chips.
Live music on Friday and Saturday nights along with beautiful sunsets on the bay.
Watch activity on the bay while enjoying a cool drink, BBQ and visting in a friendly, pleasant, kind way, with other people.
View our latest posts on Newest located above or click here
https://thesunsethideaway.com/newest/